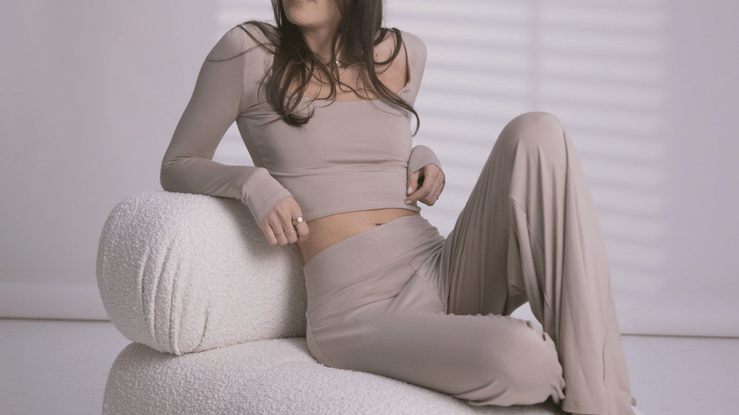 MEET WAVERLES
We make clothes to be worn everywhere.
With often little time to spare, you can't go wrong having sturdy staples in your wardrobe. With high quality comes high reward - chic (and machine washable) pieces you'll wear over and over again and a cozy fit to fuel a good mood.
FOUNDER STORY
Waverles was created after coming to the realization that all I really needed in my closet were high quality, comfortable and transitional staples. I found myself constantly seeking out wardrobe pieces that could tackle multiple occasions without the large price tag, the complicated washing instructions or the plastic-y, unsustainable materials. 
After going through pregnancy, I learned even more how important it is to have pieces in your wardrobe that you can rely on. Pieces that require little effort but make you feel put together and that are above all comfortable especially during a time where your body is changing so much. All in all durable, comfortable clothes I could lounge in that are also elevated enough to pass as work attire and chic enough to wear out on the town.
I've had a design eye and passion for styling others since I was a little kid. Now in my adult life, some days are just pure chaos, so I, like so many women, am finding ways to not let getting dressed add to the stress. Versatility, reliability and confidence in your wardrobe will save you time, money and energy, all increasingly fleeting, precious resources.
It has been and continues to be an absolute dream come true growing a brand and a community that's built on strong values, relentless passion and an unwavering commitment to choices that feel & do good.
To many cozy's to come ♡
GOOD FOR BRAIN & BODY
A percentage of sales from Waverles supports organizational research and individual families affected by the brain disease, FTD (Frontotemporal Dementia) and other neurological disorders.
What is FTD? Frontotemporal dementia is a group of disorders that gradually damage the brain's frontal and temporal lobes. These damages cause changes in thinking and behaviors. It is also progressive, meaning symptoms get worse over time. Some people live more than 10 years after diagnosis, while others live less than two years after they are diagnosed.
Of common brain diseases, FTD often affects younger individuals, as was the case for Daria Amoroso McCue, Waverles founder Briannas' 40 year old sister in 2020.
Neurological disorders are the number one cause of disability in the world. More than 1 billion people throughout the world are affected by some type of neurological disease. 
Daria lived in comfy clothes no matter the occasion. In memory and gratitude of her efforts as a social worker, Waverles also partners with We Are Loved, an NGO that provides holiday gifts and support for local foster children.